In the heart of the Sabine hills amidst olive groves and a rolling landscape, lies a peaceful haven of repose.
With its spectacular views and magical setting, In Sabina lies in the midst of the Italian countryside
less than an hour from Rome. The grounds are lush and abundant, with a natural spring, gardens, pond
and swimming pool. The property is peaceful, rustic and ideal for spiritual practice.
There are spaces indoors and out for yoga, meditation, music and the arts.
Bookings can be made by groups or individuals.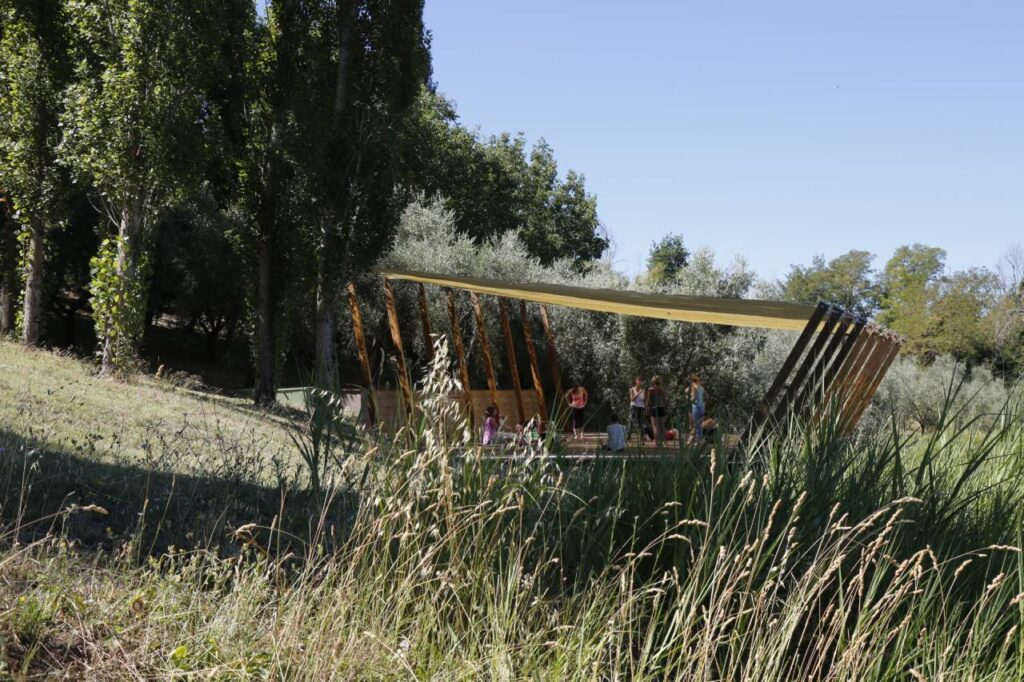 Property
The property and grounds are beautifully designed to reflect the natural environment, making this a unique place to recharge and immerse yourself in nature.
Two lovingly restored 17th-century stone buildings overlook an undulating panorama of olive groves and fruit trees. There are three terraces where you can relax and watch the stunning sunsets. A magnificent yoga platform sits in the valley, surrounded by verdant nature and wildlife, with a natural spring and lily pond nearby.
A stroll through the house and gardens reveals many original works by local and international artists who have been inspired by their stay at In Sabina. The extensive grounds are a joy to explore, with sheltered spaces for reading and meditation.
Inside, rooms are designed in a simple, natural style, a combination of old and new. Every guest room is unique. Furnishings and fabrics complement the buildings and their natural surroundings, creating a calm environment which is comfortable, practical and ideal for spiritual practice.
Selected by Taschen as one of the 'Great Yoga Retreats' (2009), In Sabina is described as "a second home that makes you forget the passing of time".
Yoga spaces
A magnificent outdoor yoga platform lies in the valley surrounded by lush, unspoilt nature. Designed by architect Marco Antonini, its wooden platform measures 15m x 10m, with a graceful white cloth covering for shade.
The indoor yoga room, which measures 5m x 10m, has an atmosphere of serene tranquillity with views over the hills and vales and is also used for meditation, chanting and treatments. Both spaces are equipped with yoga props and music systems.
Activities
The area is rich in sites of historic and natural beauty. We can organise walks and excursions to hot sulphur springs, medieval sites, local festivals in surrounding villages and trips to Rome and Umbria. Cities and towns within easy reach of In Sabina include Rome (45 minutes), Spoleto and Orvieto (1 hour), Siena and Assisi (2 hours).
Only 10 minutes away, the charming medieval hilltop village of Casperia is a favourite haunt for In Sabina groups, who often enjoy Friday dinner at the charming restaurant Gusto al Borgo, with drinks at Johnny Madge's wine bar, run by the entertaining English sculptor. For those who wish to spend time in the area before or after the retreat, the beautiful La Torretta in the historic centre is a stunning family run B&B.